US Dept of Commerce Webinar on Current and Future PFAs Challenges in Food, Beverages and Packaging Nov 8, 1:30 PM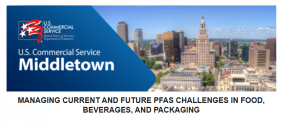 MANAGING CURRENT AND FUTURE PFAS CHALLENGES IN FOOD, BEVERAGES, AND PACKAGING
The U.S. Department of Commerce will host a virtual webinar on November 8 at 1:30 pm EST to assist businesses in learning about how to manage PFAS challenges. Learn about new legal requirements being implemented across the United States regarding Per- and Polyfluoroalkyl Substances (PFAS) in food and beverage products and packaging. Hear from Lisa Navarro, PhD DABT ERT, with Ramboll, and from CT DEC member, Alfredo Fernandez, Partner at Shipman and Goodwin LLP, about how to prepare your business to comply with the new requirements and manage the many challenges associated with PFAS.
Topics to be addressed:
What are Per- and polyfluoroalkyl substances (PFAS)?
PFAS challenges in food and beverage products
Operational PFAS challenges for food and beverage manufacturing facilities
New bans on PFAS in food and beverage packaging and best practices for assessing packaging supply chains
International considerations (exports/imports)
Risk management strategies
For more information, please contact Jacqueline.Torcellini@trade.gov
Register here.