On a sloping four-acre lot in his backyard, Steve Kleppin enjoys a bit of Christmas year round.
As the owner of Windswept Tree Farm, Steve harvests and sells a variety of fir trees during the holiday season. He lives in New Milford with his wife, Alicia, and two daughters, McKenzie and Morgen. He also serves on the New Milford Farmland Preservation Committee and describes himself as an avid land conservationist.  Below, Steve discusses his experience growing evergreens, provides tips and advice for potential growers, and talks about the future of the business.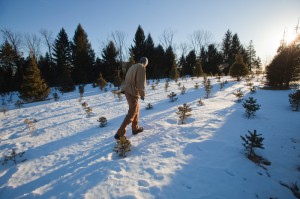 Interviewer: A Christmas tree business is another viable way for farmers to use their land. Are there many growers in New Milford?
Steve: There is only one other grower that I am aware of growing trees on a significant scale. In fact, when I go to state growers' meetings I am one of the youngest there, which is good for me. But it is an indication that there may be fewer locally grown trees in the future.
Interviewer: Why do you think that is?
Steve: Considering the town's size and abundance of open space you would think there would be more. Whether people have access to that land, or whether it's suitable for Christmas trees is another story.  Unlike vegetable crops, growers might not see a return on their investment conservatively for eight years, if all goes well. A grower has to continuously plant every year to ensure he has future crops, and may spend thousands of dollars and countless hours over an eight-year period with potentially no return on his investment. Do people have the time to do this? We were able to start the farm before we started our family, and we purchased the property with this in mind. Considering that there is an eight to 10- year time frame before you realize a return, growers need have a long-term lease, or own the land.
Interviewer: What are the land requirements for growing Christmas trees? How much land is required and what type? Do you need any special permits?
Steve: Christmas Trees are fairly resilient. Some species will grow in really tough conditions. However, the more exotic firs and many popular species only do well within certain microclimates, which affect their ability to resist disease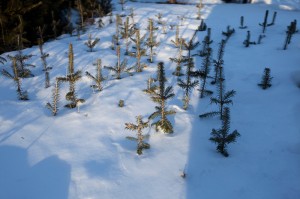 and insect damage. Also, deer are a major problem. In addition, the soil is a big consideration. Anyone who is considering planting trees or other crop really needs to research this before they invest time and money in a particular property. A tree farm can be very small to hundreds of acres. It really depends on two considerations:  how many trees you can place on an acre and, how much land you can manage. If you space your trees very tightly you can place a large volume of trees on an acre, but that leads to disease problems and also will probably limit growth of larger trees. I am now increasing spacing between rows from 5.5' to 6' to allow better access.
I would love to have a larger farm, but if I am honest with myself I don't know how much larger a parcel I could maintain while working a full time job and having time for a family. For me, a four to five acre farm is a good size for maintenance while still allowing a life outside of work and the farm. Like many people in my position I feel I need some supplemental income and I love to grow trees and, in essence, work for myself, so the tree farm is a natural marriage. I see a trend with these smaller farms, whether they're vegetable crops, animals or trees, where they can be a great supplemental income for motivated folks who are willing to work, take a little risk and like growing stuff.  You don't need any permits to plant or grow trees but you do need permits when it comes to the retail aspect. I would recommend consulting your local Zoning Enforcement Officer.
Interviewer: From a consumer point of view, why is buying a locally grown tree better than purchasing one from a larger venue with trees trucked in from elsewhere?
Steve: There are two reasons: the buying experience and the freshness. Buying a tree at big box retail establishment or a site that trucks Christmas trees in from a distance may be fine, but my farm is not located in a parking lot next to a highway and you are not treated like you are part of an assembly line. At a tree farm you can walk and take as long as you like; breathe the fresh air; take in the scenery; picnic; let your kids run free; bring your dogs on a leash; see the same (usually smiling) faces every year, and meet some nice people. When you buy a tree at a tree farm, it is cut and then presumably put in water the same day. Many other places have their trees cut and shipped from Canada or places south, where they have to be driven hundreds of miles, exposed to the wind which dries them out. Some places get their trees from locations where they're cut very early and kept in cold water until shipped. Also, buying from a local grower means you are supporting a local business owner, property owner and neighbor.
Interviewer: Is growing Christmas trees seasonal work? What is involved ? How is it different from traditional farming?
Steve: While the selling season is very seasonal, it is a year-round business. I tend to hibernate a lot in January, but if there is a good day with no snow cover, there is work to be done. By mid-March we are getting our holes prepped for planting at the end of March and early April. By May, we are mowing, monitoring for pests, and dealing with other projects. This continues into the summer and fall, and we have a few thousand trees to prune, which we do by hand.
What people don't necessarily think about with Christmas trees is that if I lose a crop, especially a few years in, it's a disaster.  Unlike vegetables, I can't just plant seeds the next year and a new crop will hopefully come up. If I have already invested three years into trees that die, I can't replant them and replace them right away. I could lose years of sales and when people leave your farm for another they might not return in subsequent years.
For example, I have my young trees in beds for two years until they are field-planted. I did not protect one bed, and the deer heavily damaged 100 gorgeous trees I had planned on field-planting this spring. I have to find substitute trees from a commercial nursery, which won't do as well as my trees from my bed. And, they will cost me more money.
Interviewer: So, with all those considerations, what is it about growing trees that appeals to you?
Steve: As I mentioned earlier, I like growing things, and I like Christmas so there it is a natural fit. Even though I like gardening, I have never had a desire to grow vegetables on a large scale. While I like cows just fine, I barely have time to take care of myself, let alone livestock. There are times when it is really a lot of work, especially in the middle of summer and you are mowing a field in 90-degree heat, with ticks, bees and poison ivy all around. But. On those rare moments when it is just the trees and me, it is as peaceful as it gets.
Interviewer: Then, of course, Christmas comes, and you must be working non-stop, right?
Steve: Correct. It actually starts before then. If I am running behind like I was last year, I was pruning a week or so before Thanksgiving, which is a little late. Basically, I work my real job, come home and try to steal an hour of daylight to do a couple things outside. We sell trees Friday afternoons plus weekends, so between Thanksgiving and Christmas there are no days off. There are things to do during the off -days in terms of planning and cleanup as well.