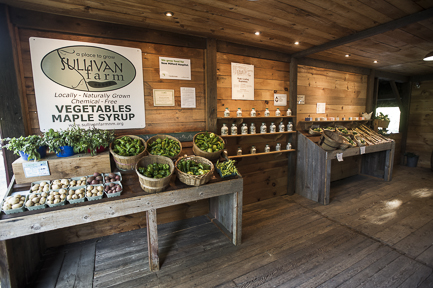 Plumes of smoke rising from the sugar shack in early spring, and rows the sunflowers in bloom in summer are the scenes most motorists see while passing Sullivan Farm on Route 202..
But Litchfield County's only town-owned, agro-educational farm, offers much more than maple syrup and seasonal flowers. Each year, the farm continues to expand cultivation, adding to the diverse array of produce and products. Unlike many farms that concentrate on specific crop, Sullivan Farm stands apart as a model of agricultural diversity, thanks to a dedicated staff, many volunteers and student interns.
This year, Sullivan Farm installed a hoop greenhouse for growing vegetables during shoulder seasons; introduced raspberries and strawberries into the crop plan; applied for organic certification, and built a small composting facility. The retail shop housed in a red barn adjacent to the farm offers a variety of seasonal produce. Wire baskets are neatly filled with heirloom tomatoes; squash; potatoes; green and yellow peppers; ground cherries; yellow cucumbers; zebra tomatoes; Asian eggplant; blue potatoes; fingerling potatoes; carrots, onions, garlic and much more. Herbs, five-types of lettuces, and eggs are also sold in a cooler case.
Jars of peach, strawberry-rhubarb and strawberry jams made by the town's Youth Agency as well as Great Brook Maple Syrup, made on the farm's own sugar shack are also available in season.
Sullivan Farm also ties the town's past with its future. An integral part of New Milord's agricultural legacy, the 100-acre farm was purchased by the town from the Sullivan family in 1997. Up until 2012, the farm was operated by the New Milord's Youth Agency. The management of Sullivan Farm now falls under the non-profit Friends of Sullivan Farm, which continues to expand its educational and community outreach mission. The farm offers public workshops from composting to canning, and it partners with other community organizations in community outreach programs. Throughout the years, hundreds of area youths have worked at the farm and thousands of school children and families have visited.
Last year, the farm established a paid internship program, Food Connection Corps (FCC), for youths 14 to 18 years old. Under the leadership of Joseph Listro, the farm manager, students learn all aspects of sustainable agriculture from seedlings to sales.
"They come away with a greater understanding of what's involved in running a farm operations, and an even deeper awareness of what a hard day of work means," said Listro.