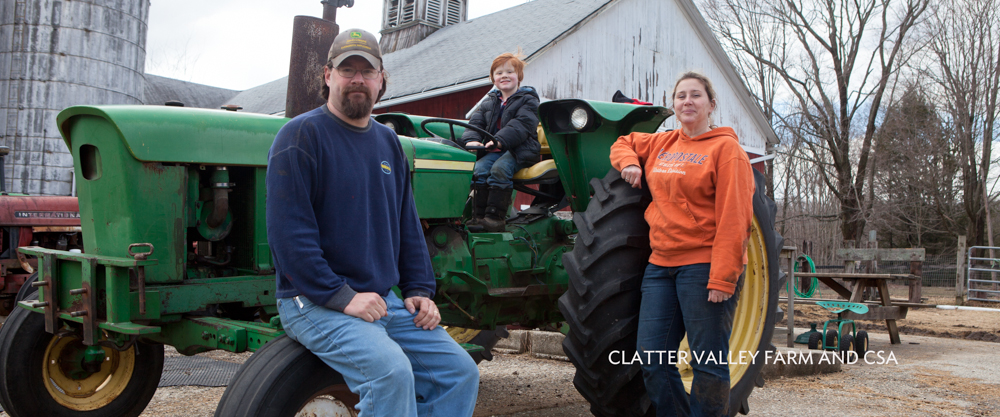 Most daily commuters know Jeremy and Willow Schultz from The Berry Farm, the roadside stand they operated along Route 7 in New Milford. Five years ago, the couple started a CSA (Community Supported Agriculture) at their Clatter Valley farm located on the part of the 170-acre Nature Conservancy/Sunny Valley Preserve at 125 Town Farm Road, New Milford.
"CSA" represents a rapidly growing US local food production and distribution system that has been around for over 25 years and directly connects small-scale farmers and consumers. The term "CSA" is also used to refer to an individual farm's CSA program.
Consumers buy "shares" in a farm's harvest in advance.  Farmers gain early-season working capital through sale of the shares and have a guaranteed market for their produce. Farmers also hedge their risk in the event of a poor harvest as consumer shareholders agree to accept whatever nature brings their way—even if, say, a hail storm happens to wipe out the entire harvest, they do not get their share price back.  On the very positive side, consumers enjoy field-fresh produce–increasingly organically-grown–and greater access to high-demand fruits and vegetables like strawberries and heirloom tomatoes as well as a range and variety that makes for great culinary experimentation.
"CSA" represents a rapidly growing US local food production and distribution system
Most CSAs require an annual buy-in and provide weekly deliveries or pick-ups in the growing season from June through mid-October.  Many CSAs also offer farm visits, PYO, and special events for members.
Clatter Valley Farm's thriving CSA has grown from a fledging business with a dozen shareholders (families) to nearly 45 this season. In 2014, it plans to add 20-25 more, bringing the total number of family shareholders to 65 or 70. Jeremy and Willow also sell their own grass-fed beef and chicken, eggs, and sweet corn, at City Center Danbury Farmer's Market Fridays from mid-June through October.
Clatter Valley CSA offers 15-week both full and partial produce shares from mid-June to October as well as a 10-week seasonal fruit share (strawberries, watermelon, cantaloupe, peaches, apples, etc.).
Like many small-scale CSAs, Clatter Valley has prospered by word of mouth. "The first year we solicited friends, and it has spread from there, " says Willow.  More recently, their business plan included launching a website (www.clattervalleyfarm.com) which has drawn more customers, feedback and interest.
"We're small, and we want to grow slowly, so we can keep up with the demand, though I don't think we will be as large as some CSAs."  Raising children was a big part of why the couple switched from a roadside stand business to CSA farming. "We wanted the kids to be more involved in farming," says Willow.  " It's a great way for them to learn life's lessons: life and plant cycles, farming responsibilities, and just knowing where their food comes."
http://www.clattervalleyfarm.com