Tri-State SAR Webinar Series – Improving Pasture Management for Sustainable Livestock Production
WEBINAR SERIES: IMPROVING PASTURE MANAGEMENT FOR SUSTAINABLE LIVESTOCK PRODUCTION
Tri-State SARE (Sustainable Agriculture Research & Education) Project is offering a webinar series on improving pasture management for sustainable livestock production, starting on Friday, February 19 from 10:00 a.m. to 12:00 p.m. This project is a professional development opportunity for agricultural service providers and farmers provided by the Northeast SARE state programs in Connecticut, Massachusetts and Rhode Island.

Webinars are open to service providers and farmers. By attending all webinars, participants will have a sound understanding of how to develop a personalized grazing plan.

For more information, visit http://meatsystems.uconn.edu/ or contact Rachel Bespuda, Project Director, at rachel.bespuda@uconn.edu.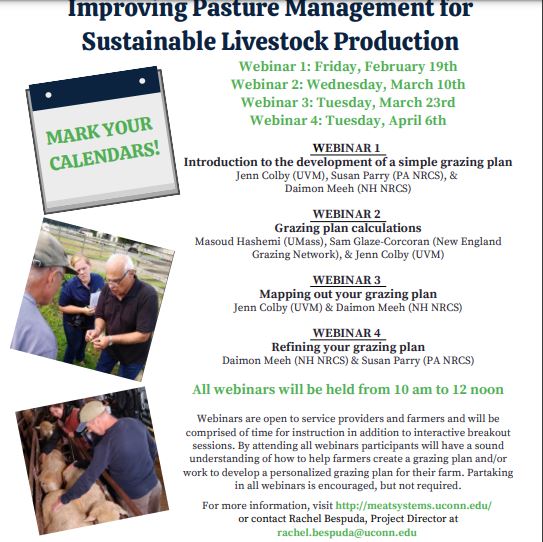 To register, click here.