The Smithy to launch CSA program- April 30, 2016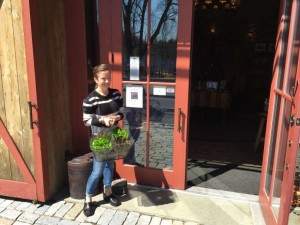 http://www.newmilfordspectrum.com/news/article/The-Smithy-to-launch-CSA-program-7379489.php
The Smithy, located in a renovated 18th century blacksmith's shop, showcases local food and goods, focusing on products made using sustainable, organic practices whenever possible. CSA stands for community-supported agriculture.
Upstairs is The Loft Gallery, where rotating shows of local artists provide a space for the community to gather.
The Smithy hosts regular meet-and-greets that offer the opportunity for people to connect with their local farmers and learn more about their food sources, as well as other regularly scheduled events, including art openings, book signings, live music, demonstrations, tastings and other informal gatherings.
The Smithy CSA will give members access to all types of produce grown on local farms (most of which follow organic practices), including Anderson Acres Farm, Wild Carrot Farm, Starberry Farm, Sugar Water Farm, Sloane Farm, and others.
A traditional CSA only gives patrons access to produce from one farm and often restricts their options to a set box every week, picked up at a set time.
At The Smithy, customers can purchase a large or small share of local produce and will then have the ability to shop for all of their local produce at a discount.
Along with giving members the opportunity to support multiple local farms at a time when they need it most, The Smithy will send members a weekly newsletter announcing what will be available in the coming week, as well as recipes from Holmes.
Members will have the ability to call or email The Smithy and have specific items set aside especially for them, or ask to have a box made up and ready for them at their desired pickup time.
Also coming soon, Holmes will introduce house-baked goods and take-away prepared foods at The Smithy.
The Smithy was started in 2007 by Howard Rosenfeld and Sheryl Leach as part of their ongoing efforts to support the local farms, food producers and small family businesses of northwestern Connecticut.
Upon their retirement in late 2015, Holmes purchased the business and is working to grow and expand the offerings at The Smithy, while deepening its connections to the local community and maintaining the consistent quality and outstanding customer service it is known for.
From her childhood on a small family farm, to her previous career developing consumer software, to her training at TheFrench Culinary Institute in New York City, Holmes brings a unique set of experiences and great enthusiasm to The Smithy.
The Smithy on Main Street is open from 10 a.m. to 5:30 p.m. every day except Tuesday.
For information, visit www.thesmithystore.com or contact Holmes at 860-868-9003.