Solid Ground AG Mechanics Workshops being offered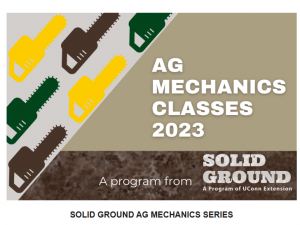 It's that time of year again where our Solid Ground Trainings are starting to get their gears rolling!  Kicking it off this season, they are bringing back the ever-popular Chainsaw Skills and Safety program directed toward women, Beginning Welders Workshops, and an Intro to Carpentry! Each workshop cost $25 and includes lunch. See more info below!
Note: 
These trainings are intended for production farmers in Connecticut, if you have a hobby farm or are gardening, please reference this other wonderful UConn Extension program here
: https://homegarden.cahnr.uconn.edu/ 
Chainsaw Class Directed toward Women
Date: Saturday, November 18th
Time: 8:30-4:30
Location: Long Table Farm, 256 Beaver Brook Rd, Lyme, CT
Max Number of participants: 10
Description of class:
Chainsaw Skills and Safety directed toward Women: Intro to safe chainsaw operation. Students will learn about PPE, work area safety, basic saw maintenance, chain sharpening, and how to develop a felling plan.  Each student will have a chance to fell their own tree.  You may bring your own saw or use one that will be provided by the instructor.
 Basic Welding for Beginners
Date: Saturday, December 9th
Time: 9am – 3pm
Location: Rockville High School, 70 Loveland Hill Rd, Vernon
Max Number of participants: 10
Description of class:
Intro to the basics of welding. Learn the proper personal protective equipment required and safety protocols to know before getting started. Instructor will go over the fundamentals of MIG and stick welding, teaching you techniques to get welds done safely and efficiently.
Power Tool Safety & Carpentry Basics Training
Date: Saturday, December 16th
Time: 9am – 3pm
Location: WorkspaceCT, 16 Trowbridge Dr, Bethel
Max Number of participants: 10
Description of class:
Get familiar with the power tools and carpentry skills that you'll need on your farm. Learn how to use an impact driver, drill, skill saw, table saw and more. You will work with your new skills to complete a project to take home.
Please contact us 2 weeks in advance with special needs (dietary, translation, accessibility, etc.) We'll do our best to accommodate you.
FOR ALL WORKSHOPS THAT INCLUDE TRAVEL: If the cost is prohibitive, Travel Stipends will be made available to participants at any event where travel is required to attend.
Please do not attend if you are not feeling well – you will receive a refund.