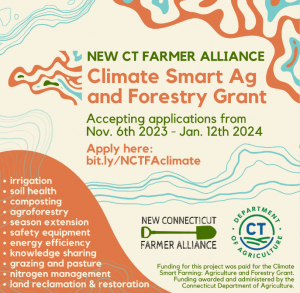 CLIMATE SMART GRANT PROGRAM THROUGH NEW CT FARMER ALLIANCE
The New CT Farmer Alliance is excited to announce the first round of our Climate Smart Ag and Forestry grant program! We will be awarding grants to 22 Connecticut farms in 2024 to fund a range of agriculture and forestry practices that contribute to climate change mitigation and resilience. 
Learn more here.
Key points:
Applications open on November 6th, 2023, and close on January 12th, 2024.
Funding will be available in two tiers: 18 grants of up to $8,000 & 4 grants of up to $30,000.
There are three options to submit an application: a written online application, a video submission, or a farm visit.
We are also hosting 
virtual info sessions
 on Wednesday, November 8th at 6pm and Tuesday, December 5th at 6pm for interested applicants to learn more about the grant program, application requirements, and submission process.
Funding for this project was paid for the Climate Smart Farming: Agriculture and Forestry Grant. Funding awarded and administered by the Connecticut Department of Agriculture.