Farm Credit East announced 4/7/2016 $100,000 for Ag Education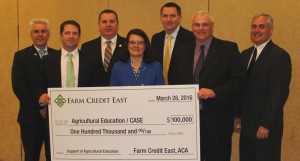 Photo Caption (L-R): Blane Allen, Farm Credit East Middletown, N.Y. branch office manager; Michael Brooks, Farm Credit East director and owner of Dusty Lane Farms in Elmer, N.J.; Scott Andersen, Farm Credit East Bridgeton, N.J. branch office manager; Nancy Trivette, Agricultural Education/CASE New Jersey program leader; Mike Reynolds, Farm Credit East executive vice president; Dr. Dan Jansen, Curriculum for Agricultural Science Education (CASE) project director; and Stephen Makarevich, Farm Credit East Flemington, N.J. branch office manager. (Courtesy Photo)
ENFIELD, Conn. — In honor of the Farm Credit System's centennial year, Farm Credit East announced a $100,000 commitment to support the development of a new agricultural business curriculum and to provide scholarships for agriculture teachers.
"As we celebrate the centennial of the Farm Credit System we are looking towards the future. This investment in agricultural education delivers on that focus through programs to support the next generation of Northeast agriculture," said Lisa Sellew, Farm Credit East director and chair of the Board's AgInitiative Committee.
Farm Credit East has committed $50,000 toward the development of the agricultural business course of the Curriculum for Agricultural Science Education (CASE), a project of the National Association of Agricultural Educators. CASE courses integrate science, technology, engineering and math (STEM) concepts with hands-on, inquiry-based learning.
After an introductory course, students specialize in tracks for animal or plant science, power and technology and natural resources. Farm Credit East's funding will help to develop a track in agricultural business. Since 2009, CASE has certified 1,134 teachers from 40 states, including 47 teachers from the Northeast states Farm Credit East serves.
"We appreciate Farm Credit East's support for the development of the Agricultural Business Foundations course," said Dan Jansen, CASE project director. "Given Farm Credit East's financial expertise, it's a great partnership. With their help, we can make the agricultural business course an outstanding addition."
An additional $50,000 will go toward educator scholarships. Teachers become CASE certified through a rigorous 60-hour training institute. If a teacher in Farm Credit East's territory is interested in a scholarship to support their attendance at a CASE institute, please visit farmcrediteast.com to apply.
—Farm Credit East