CT DoAG CT Grown for CT Kids Grants due Dec. 14, 2023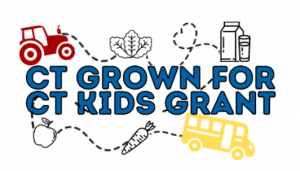 CT DOAG ANNOUNCES CONNECTICUT GROWN FOR CONNECTICUT KIDS GRANT OPPORTUNITY
The Connecticut Department of Agriculture (CT DoAg) is now accepting applications for the CT Grown for CT Kids (CTG4CTK) Grant program for projects which develop or enhance Farm to School programs in Connecticut. An additional $2 million is also available for a Shipping Container Grower Grant for projects connected to Farm to School. The application deadline is 
Thursday, December 14, 2023
, at 4:00 p.m. Applications received after 4:00 p.m. will not be considered.
Through a combination of financial and technical assistance, the CTG4CTK grant will help develop farm-to-school programs that will increase the availability of local foods in child nutrition programs, allow educators to use hands-on educational techniques to teach students about nutrition and farm-to-school connections, sustain relationships with local farmers and producers, enrich the educational experience of students, improve the health of children in the state and enhance the state's economy.
CT DoAg is accepting applications for up to $50,000 in funding for 18-month long projects from eligible entities for projects which align with one of the following grant tracks. Simplified microgrants of less than $5,000 are offered in each of the four tracks as well. CT DoAg has approximately $900,000 in funds to award for CTG4CTK Grant projects in fiscal year 2024.
Track 1: Farm to School (K-12) Local Procurement Assistance Grant
Track 2: Farm to School (K-12) Experiential Learning Grant
Track 3: Producer Capacity Building Grant* (up to $5,000 only)
Track 4: Farm to Early Care and Education (ECE) Grant
Track 5: Shipping Container Grower Grant* New FY 2024 only
New this year, Track 5: Shipping Container Grower Grant is for eligible applicants seeking to purchase and install shipping container growing units that will benefit students through contracts with school districts for product grown in the container and/or building educational opportunities for students.  Funding for this was provided by the state American Rescue Plan Act (ARPA) funds in the 2023 legislative session. Applicants for Track 5 can apply for up to $250,000 for 24-month long projects. All applications will be evaluated through a competitive selection process by an advisory team after an administrative review by CT DoAg.
Eligible applicants include Connecticut local and regional boards of education, regional education centers, cooperative arrangements, childcare centers, group childcare homes and family childcare homes, or any organization or entity administering or assisting in the development of a farm-to-school program. Entities who received CTG4CTK funds for the two prior grant periods are not eligible to apply this year. A one-round break in funding is required.
For interested parties, there will be a webinar including a question-and-answer session on Thursday, October 26, 2023, from 2:00-3:30 p.m. This will be recorded and posted on www.CTGrown.gov/grants under the CT Grown for CT Kids Grant tab.  Please visit our webpage to register. The guidance, application portal, and additional information required to apply are available at the CT Grown for CT Kids Grant Program page.  CT DoAg will host weekly office hours following the webinar and grant coaching by track will also be available.
For more information visit the webpage or contact Cyrena Thibodeau at Cyrena.Thibodeau@ct.gov or 860-895-3094.