Couple Chosen to Run Land Trust Farm in Roxbury April 23, 2016
http://www.newmilfordspectrum.com/news/article/Couple-chosen-to-run-land-trust-farm-in-Roxbury-7256788.php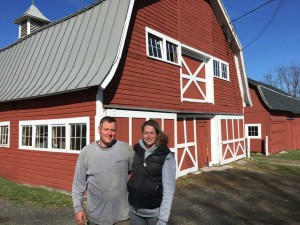 ROXBURY — A local family has been selected by the Roxbury Land Trust to lease the historic Good Hill Farm at the intersection of Route 317 and Tophet Road on the Roxbury-Woodbury border.
Mark and Stephanie Maynard plan to produce all-natural, pasture-raised beef, as well as high-grade pork, lamb and poultry on the farm using rotational grazing.
They intend to sell vegetables and eggs, moving the farm toward non-GMO practices.
"We are thrilled to begin this next chapter at Good Hill Farm supporting a young, local family with a vision for an active, productive and sustainable farm that meshes so well with the goals of the Roxbury Land Trust," said Susan Payne, RLT executive director.
Payne said the farm committee selected the Maynards after an extensive search process that yielded applications from throughout New England.
"The Maynards are the perfect pair to bring sustainable agriculture practices to Good Hill Farm," said Brian Duda, president of the land trust.
"They will be strong stewards of the land and good representatives of the land trust while engaging with the local community," he said.
Mark Maynard is a Roxbury native with an associate's degree in animal science from the University of Connecticut's College of Agriculture, Health and Natural Resources. He has more than 20 years of experience raising beef cattle.
Maynard established Ox Hollow Farm in 1994 with a mission to provide hormone- and antibiotic-free products to consumers.
The farm's products can be found at several area farm markets, as well as local natural food markets and restaurants.
Stephanie Maynard, who grew up in New Milford and has a master's degree in clinical mental health counseling, began working for Ox Hollow Farm at farmers markets 10 years ago. The couple married last year.
The Maynards plan to offer two community supported agriculture programs at Good Hill Farm, with pick-up availability at the farm's roadside cottage later this spring.
One CSA program is a protein-packed "meat share" once each month that will feature all-natural Angus beef, high-grade Duroc and Hampshire pork, free-range chickens and seasonal turkeys and lamb.
The second option is a 20-week CSA program featuring vegetables and eggs.
For information, visit www.roxburylandtrust.org or call 860-350-4148.