Connecticut Pomological Society Annual Meeting Nov 28, 2023 in Middletown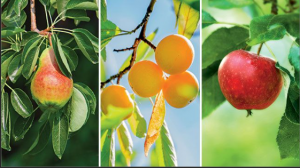 2023 CONNECTICUT POMOLOGICAL SOCIETY ANNUAL MEETING
The Connecticut Pomological Society will be holding its annual meeting on Tuesday, November 28 at 44 Maynard Street in Middletown.
Meeting Agenda
8:00 Registration
, Socialize, coffee, pastries, Visit with vendors
9:00-9:30 New Fruit Crops that 'Haskap-tured' People's Interest
. Evan Elford, OMAFRA New Crop Development Specialist. Via zoom
9:30-10:15 Precision fertilizer applications
. Eric Henry, Blue Hills Orchards and Gregory Pipczynski, Helena Agri
10:15-10:30 Break
 – Visit with Vendors
10:30-11 Plasticulture for Improved Berry Production.
 Trevor Hardy, Brookdale Fruit Farm
11:00-11:30 Stone Fruit Management Options for Thrips
. Peter Jentsch, Poma Tech Inc
11:30-11:50 Crop insurance update
. Colleen Kisselburgh, Arthur Carroll Insurance
11:50-12:00 Re-Establishing UConn's Orchard.
 Evan Lentz, UConn
12:00-1:00 Lunch
1:00-1:15 Business meeting
, Award presentations
1:15-1:45 Spotted Lanternfly Update
. Dr. Victoria Smith, CAES
1:45-2:15 Honeycrisp – Fine Tuned Management for the Apple We Love to Hate!
 Jon Clements, UMass
2:15-2:45 Utility of Biologicals in 'Honeycrisp' Apple Production.
 Jeremy Green, Technology Development Specialist, Stoller USA
2:45-3:15 Pome and Stone Fruit Management Options of Fruit and Trunk Boring Insects.
 Peter Jentsch, Poma Tech Inc
3:30 Pesticide Credits and Socialize
For more information and to register please contact Mary Conklin at Mary.Concklin@uconn.edu.