Connecticut Farm Bureau's Connecticut Agricultural Expo 2023, November 8, 2023 in Southington, CT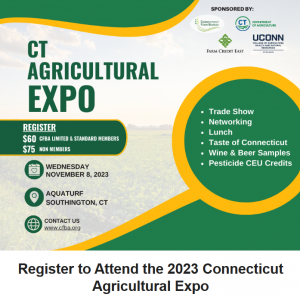 The Connecticut Farm Bureau Association will be hosting the 2023 CT Ag Expo on Wednesday, November 8 from 8:00 a.m. to 2:00 p.m.
The CT Ag Expo includes a trade show showcasing the latest in ag innovation, farm equipment, crop production, farm supplies, and ag services, as well as educational sessions for producers to earn pesticide CEU credits.
Additionally, attendees will have the opportunity to engage in networking while enjoying a Taste of Connecticut array of foods and sampling Connecticut Grown beer and wine beverages.