Barn Quilt Trail Press and Credits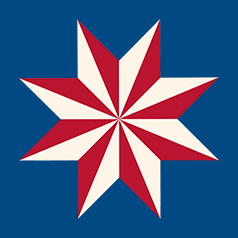 MEDIA MENTIONS
"New Milford Joins a National Barn Quilt Trail Trend", by Lisa Green, Rural Intelligence, Sept. 25, 2017
Robin Hood Radio podcast interview with Mark Williams, Publisher of Rural Intelligence, Sept. 24, 2017
"Following the Threads of New Milford's Quilt Trail," by Barry Lytton, Danbury News-Times, Aug. 7, 2017
"Following the Threads of New Milford's Quilt Trail," by Barry Lytton, reprinted in the Greater New Milford Spectrum, Aug. 8, 2017
---

---
ACKNOWLEDGMENTS
The New Milford Barn Quilt Trail—the first in Connecticut—has been created through the joint efforts of several New Milford municipal and nonprofit organizations. The project was supported by a 2014 match grant from the Connecticut Department of Economic and Community Development Offices of Culture and Tourism. Local entities to which we are deeply grateful include:
Former Mayor Patricia Murphy, quilter and longtime advocate for the trail who came up with the vision and found much of the funding, and her successor, Mayor David Gronbach, who gave continuing direction and additional funding to complete the project
New Milford Farmland & Forest Preservation Committee, which made possible generous funding to help showcase our thriving family farms
New Milford Facilities Department, whose employees were responsible for transporting all eight barn quilt blocks to the host barns and, using a cherry picker, hanging them all perfectly
New Milford Historical Society, which worked pro bono with former Mayor Murphy to identify Phase One host farms
New Milford Trust for Historic Preservation, which pro bono provided extensive research on the host farms and New Milford's farming history, compiled by board member William Devlin
New Milford Youth Agency, whose staff participated in painting of the eight barn quilt blocks
Village Center for the Arts and its Co-Founder and Studio Director Jayson Roberts, who led a team of all-volunteer artists to paint the remaining barn quilt blocks
We are especially appreciative of the eight barn owners for their participation in the first phase of the New Milford Barn Quilt Trail.
For promotional brochures and postcards, contact Suzanne Von Holt, Barn Quilt Trail Committee Chair at New Milford Town Hall in the second floor Health Department, or call 860-355-6035.
---
Photography: Merryall Studio – New Milford, CT www.merryallstudio.com